In England, the first Stevens postcard was produced in 1903. This was the earliest date that the postal authorities would accept woven postcards after convincing themselves that the threads would not damage their machinery. On the continent, woven cards were approved for posting in 1898. Some German cards using Stevengraph designs were made in early 1900s. In Coventry, in the early 1900s, the Stevengraph company was coping with management problems after the deaths of Thomas's sons, Harry and Thomas Inger. Some order was restored when the business became a limited company. Eager to compete with other companies (especially W.H.Grant – a Coventry competitor) early postcards were made from existing designs of Stevengraph portraits and scenes and well as sections of bookmarks. The earliest Stevens card was either the Crystal Palace (from the bookmark) or Ye Ladye Godiva (from the Stevengraph). Both were first made in 1903. Many other designs followed in rapid succession and covered a wide range of subjects from portraits to scenes, buildings and castles, sporting events, City Arms, Coventry and Warwickshire views. The ship designs and Hands Across the Sea flag cards were very popular amongst passengers who could purchase these on board or at ports. Stevens had many agents to facilitate sales. The Stevens name rarely appears on the postcards as certain distributors wished to print their own name on the card such as the R.T. Morgan advertisement in the image (image below). Demand between the wars diminished due to the increased cost of production and declining public interest. The black and white cards sold for three pence (3d) and the coloured ones for sixpence. Most of the cards sold were not posted but kept as souvenirs. This is good news for collectors since many cards found today are often in good condition, being well preserved away from the light and dust.
Stevens also made Christmas cards with a fold-over design (now quite rare) and a range of silk woven
cards for the Alpha Publishing Company, the designs mainly being from sections of Stevens bookmarks.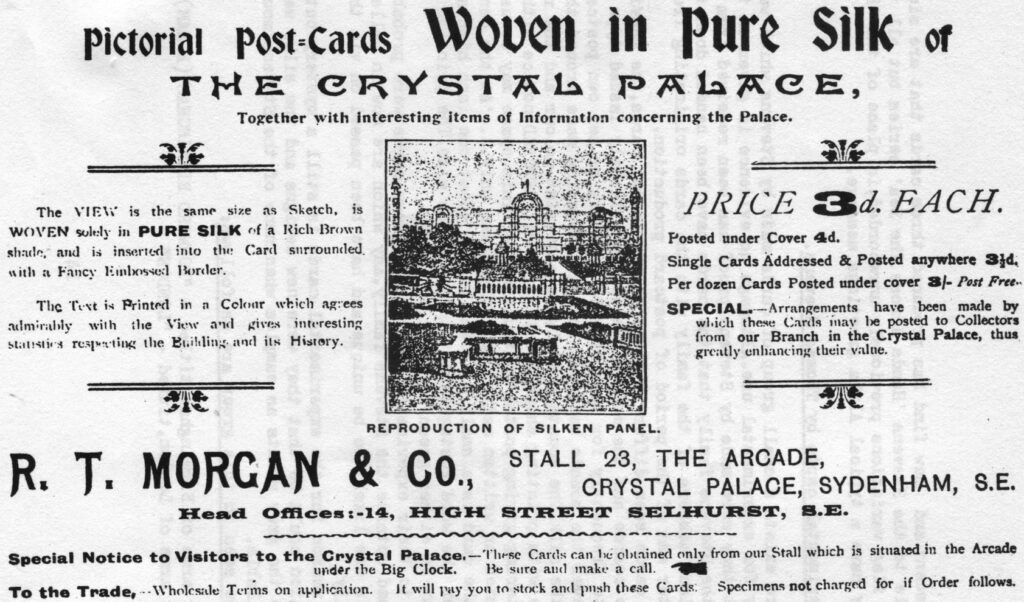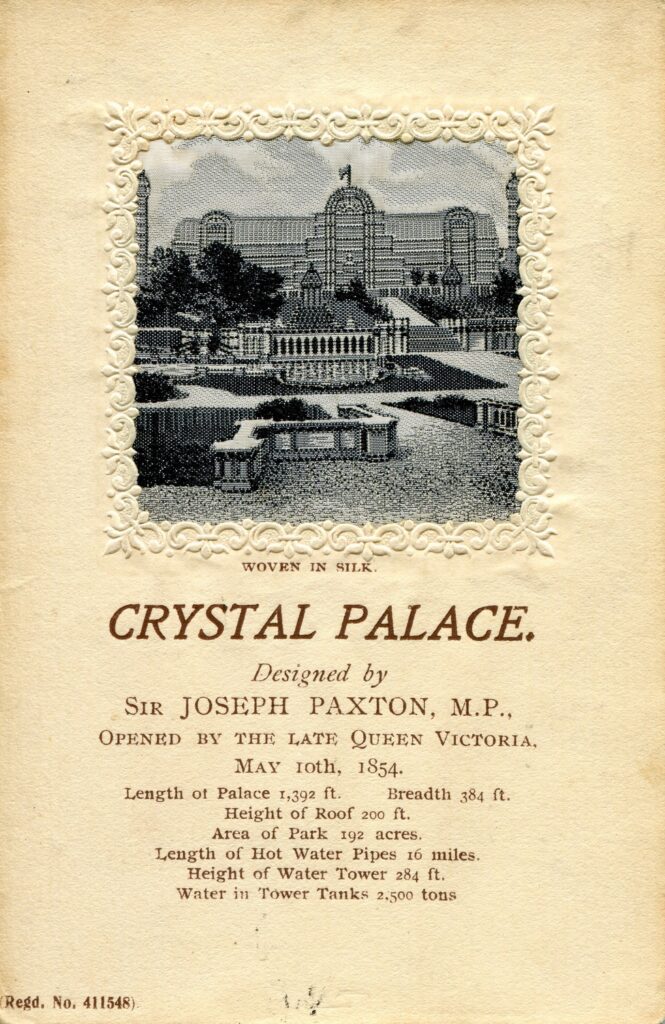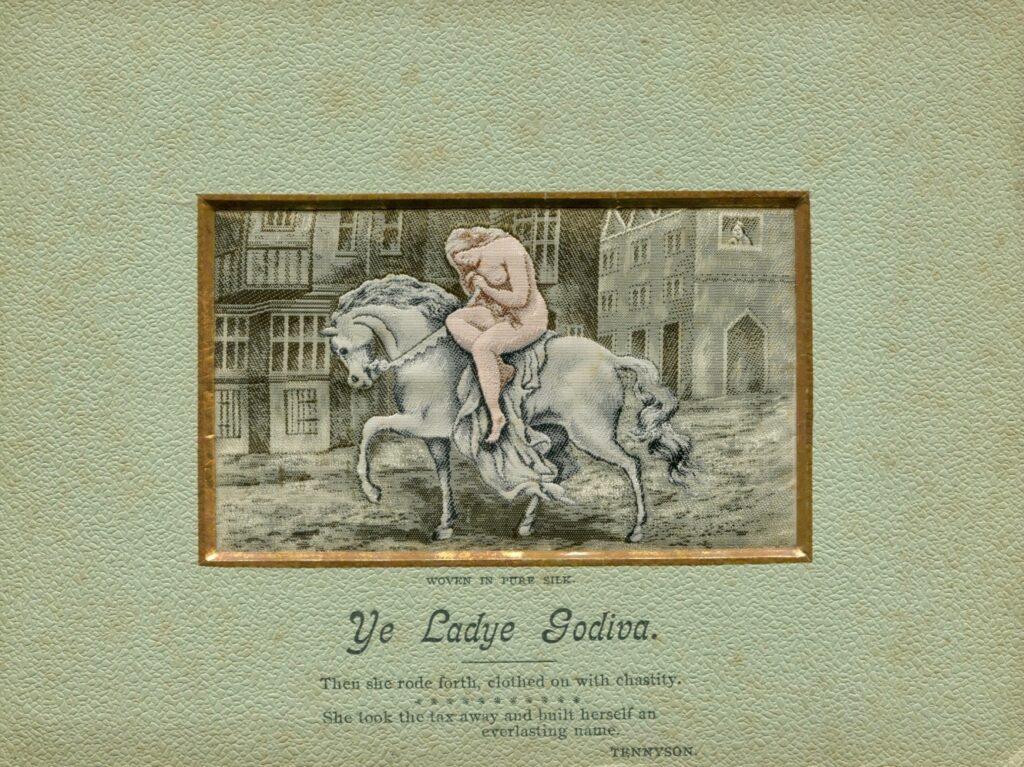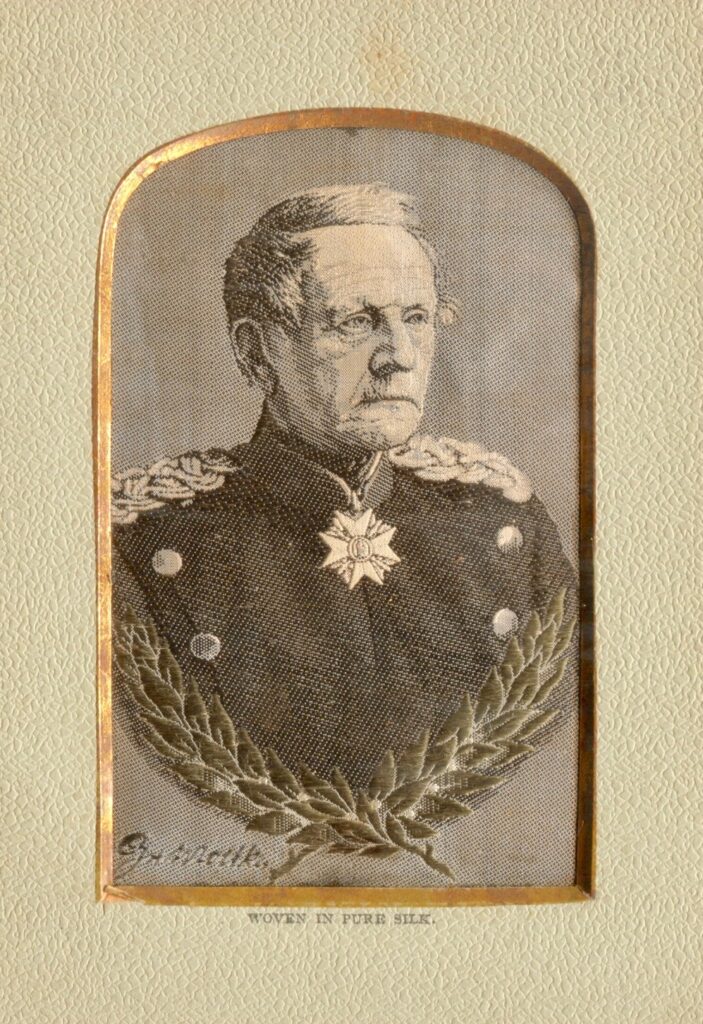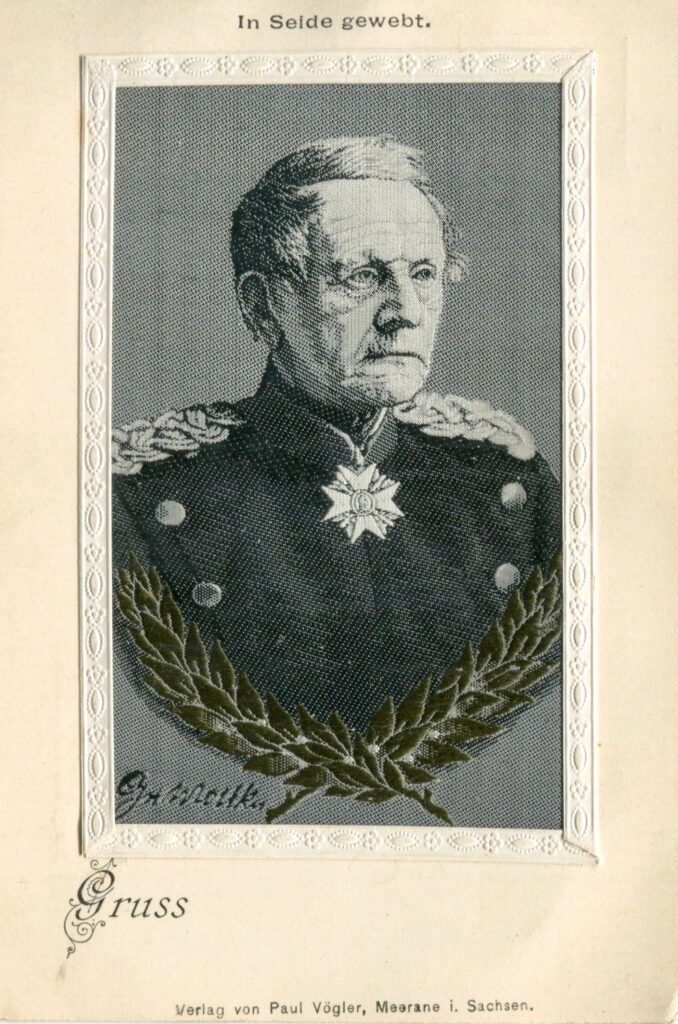 Stevengraph of Graf Moltke & German postcard

A folding Xmas Card; the Mail Coach also available as a postcard.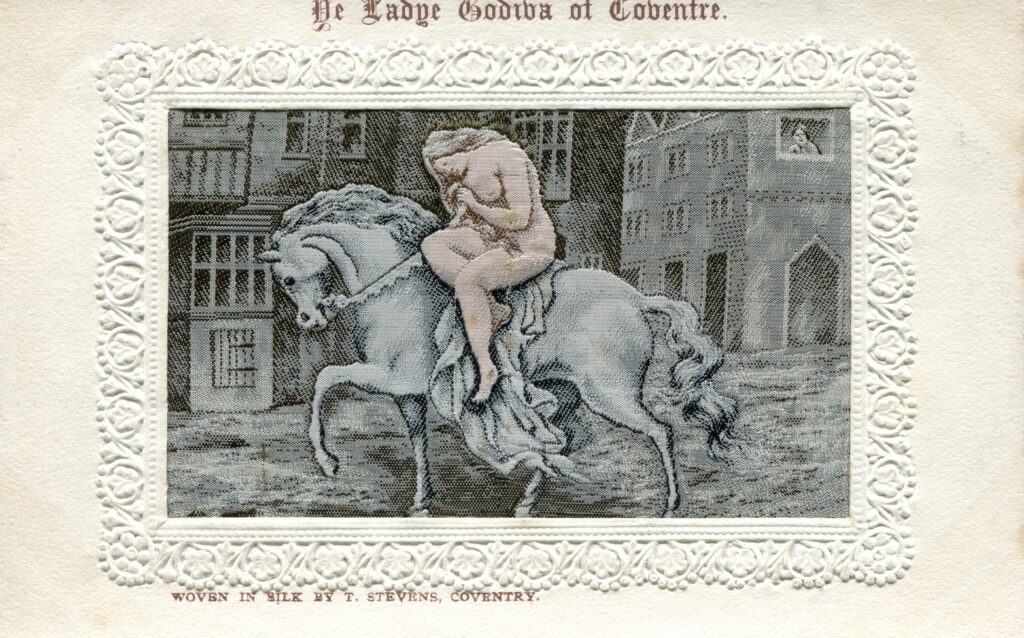 Possibly the earliest Stevens coloured postcard.
Stevens Postcard Gallery:
There are more than two hundred Stevens postcard designs and space only permits a selection of designs. For a comprehensive, illustrated and alphabetically ordered list a visit to www.stevengraph-silks.com is recommended, or see the bibliography list for further information.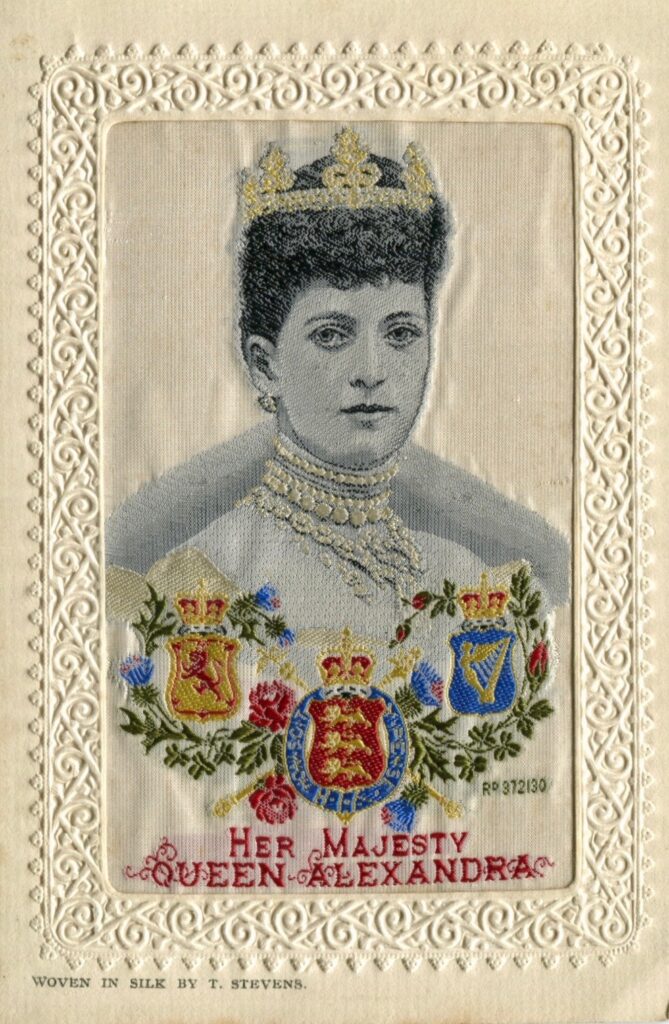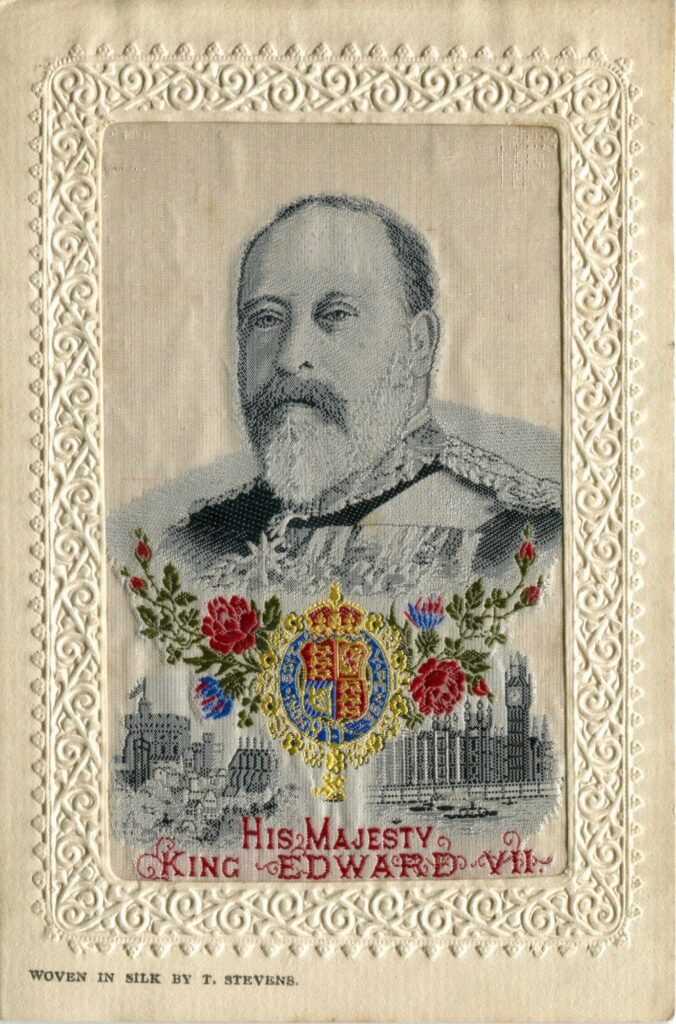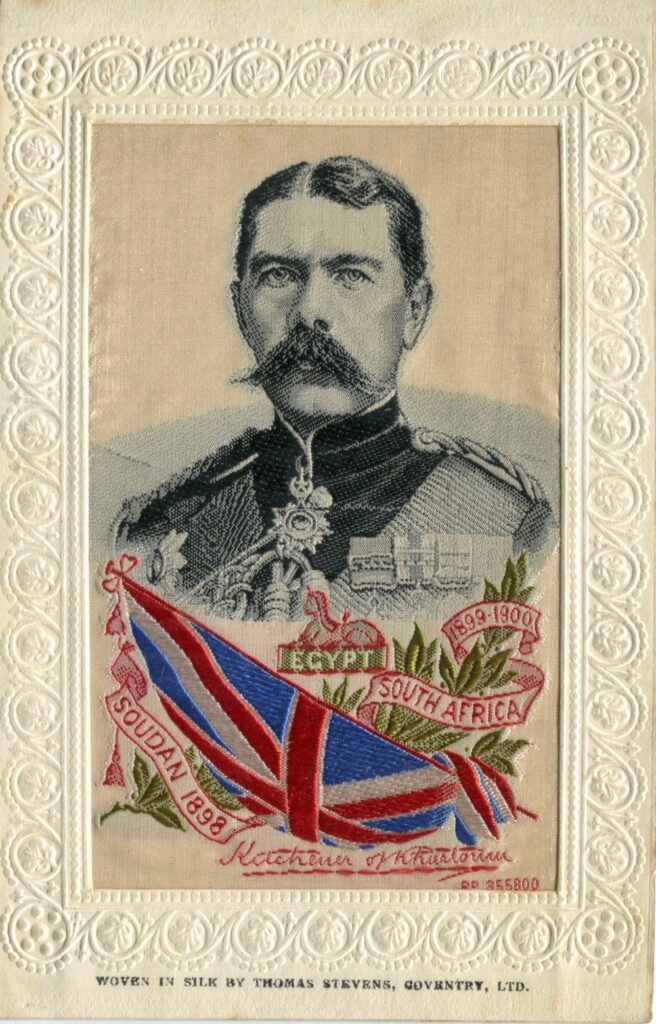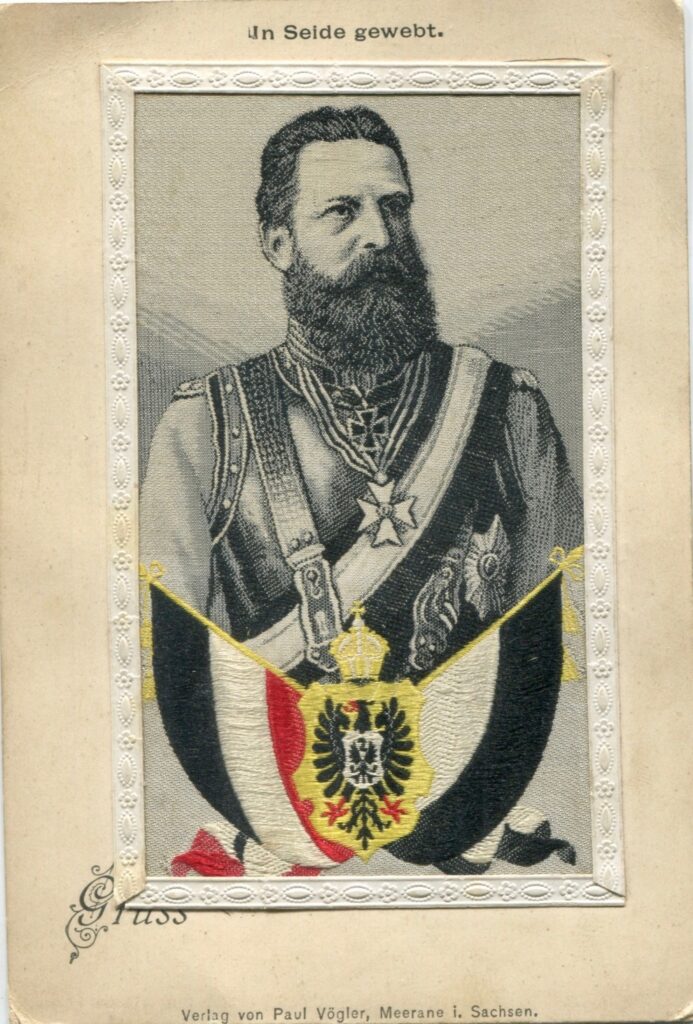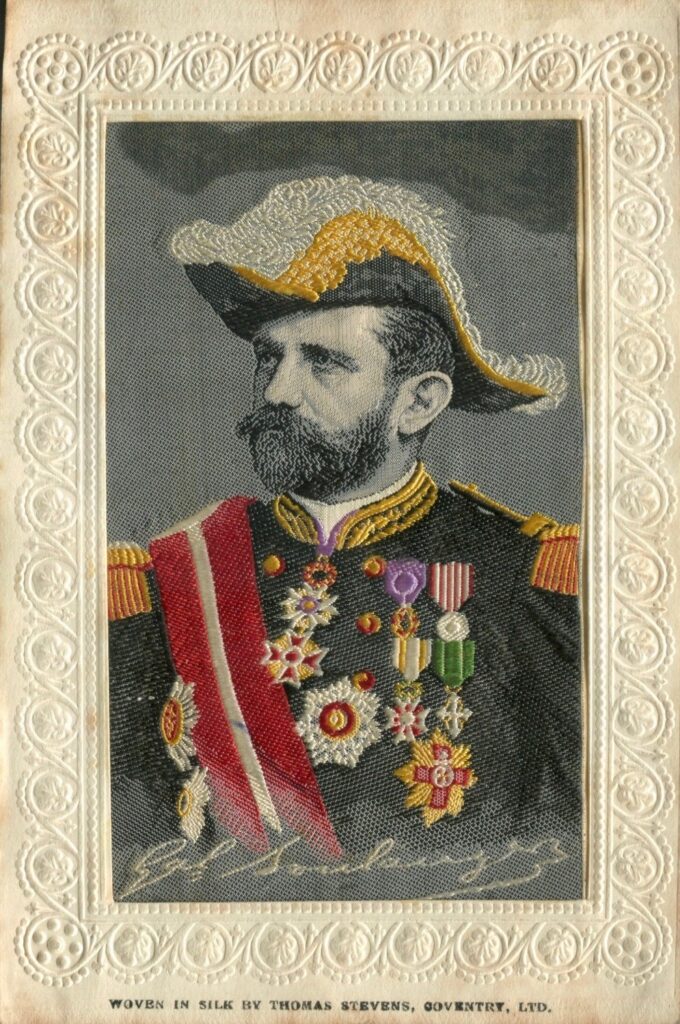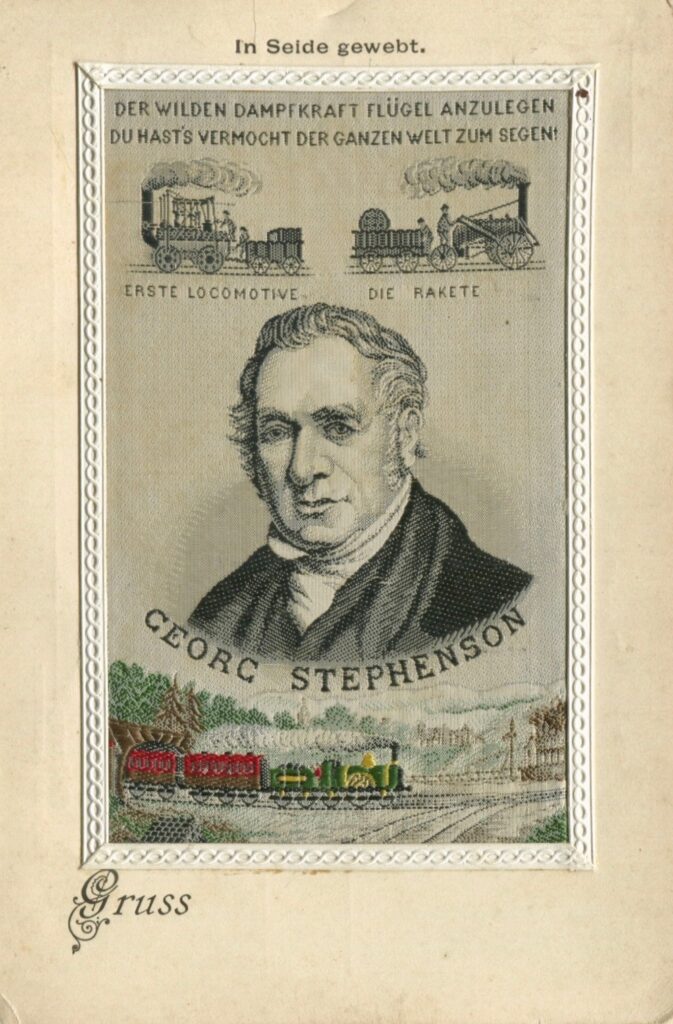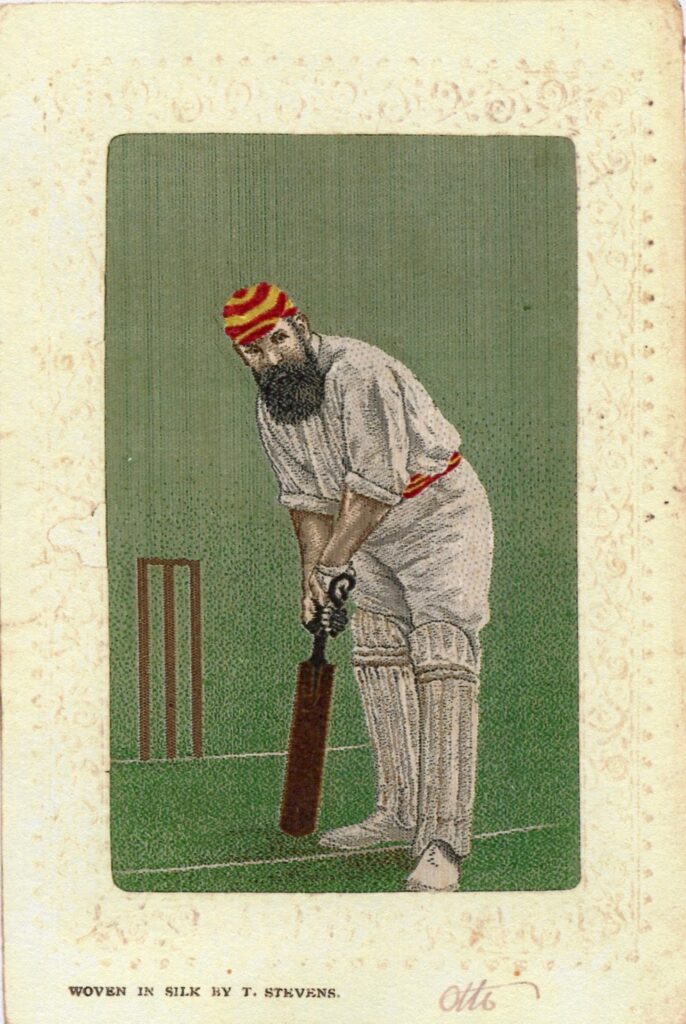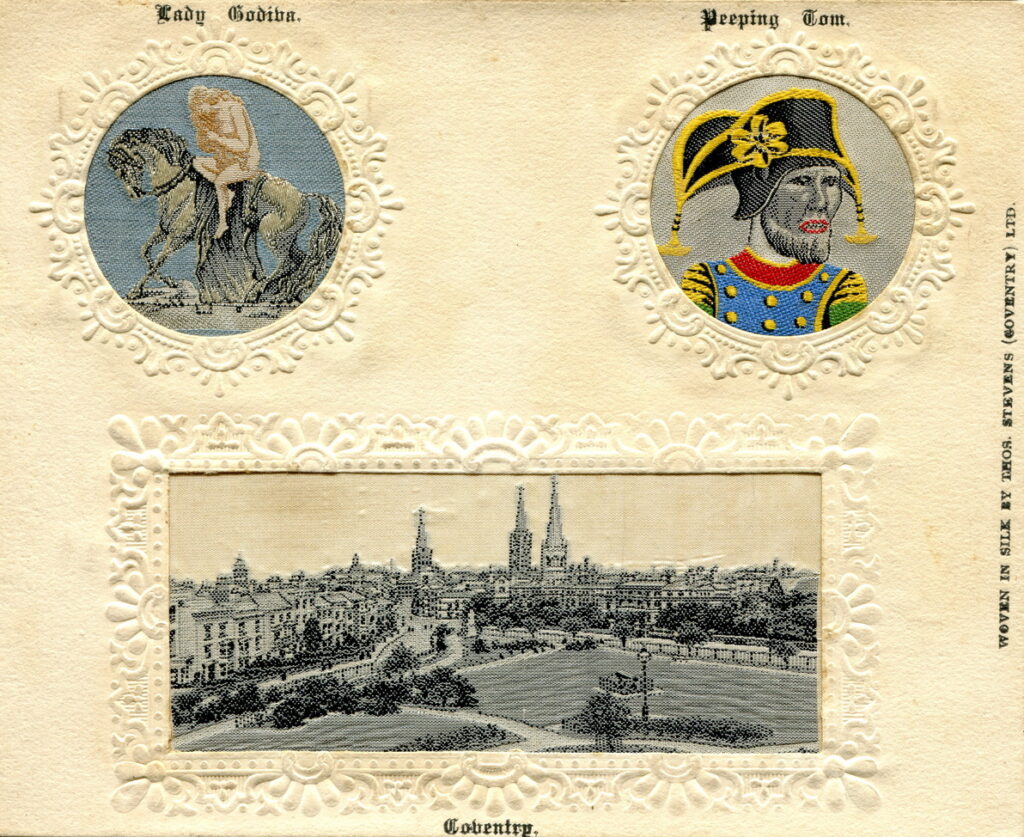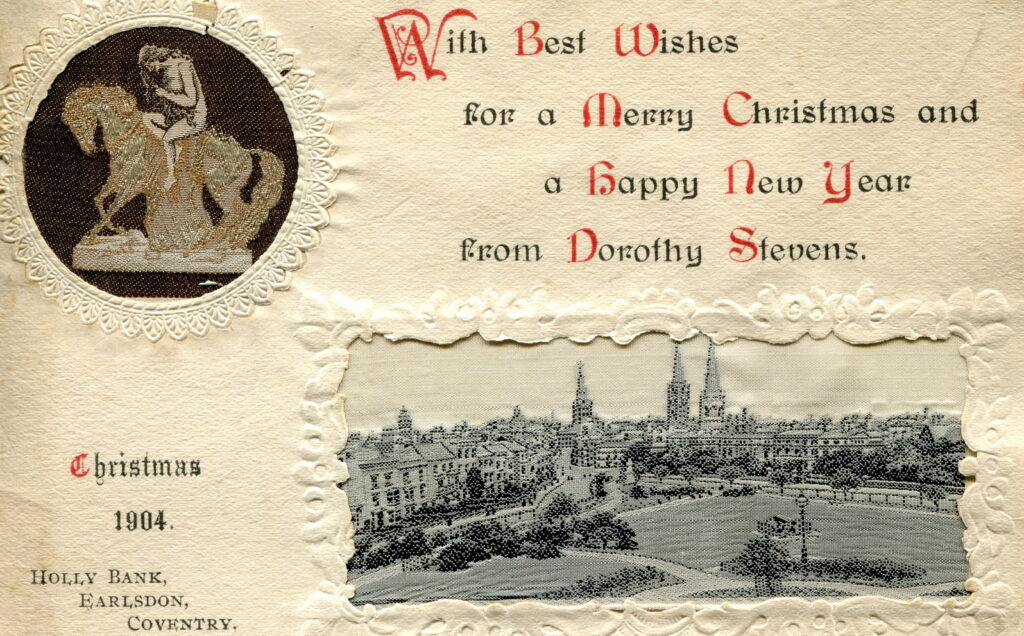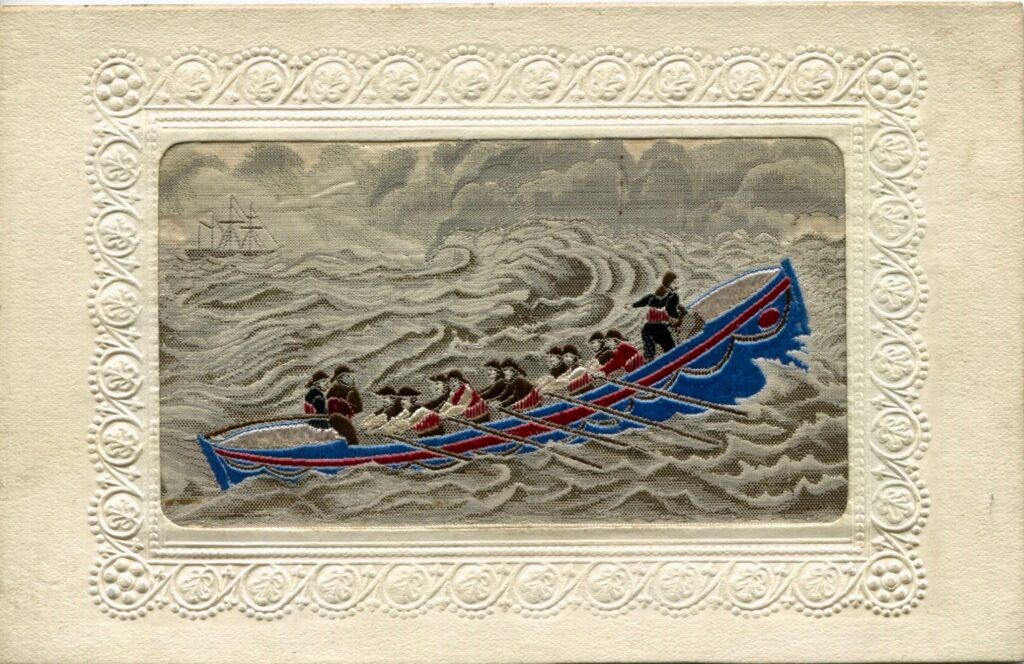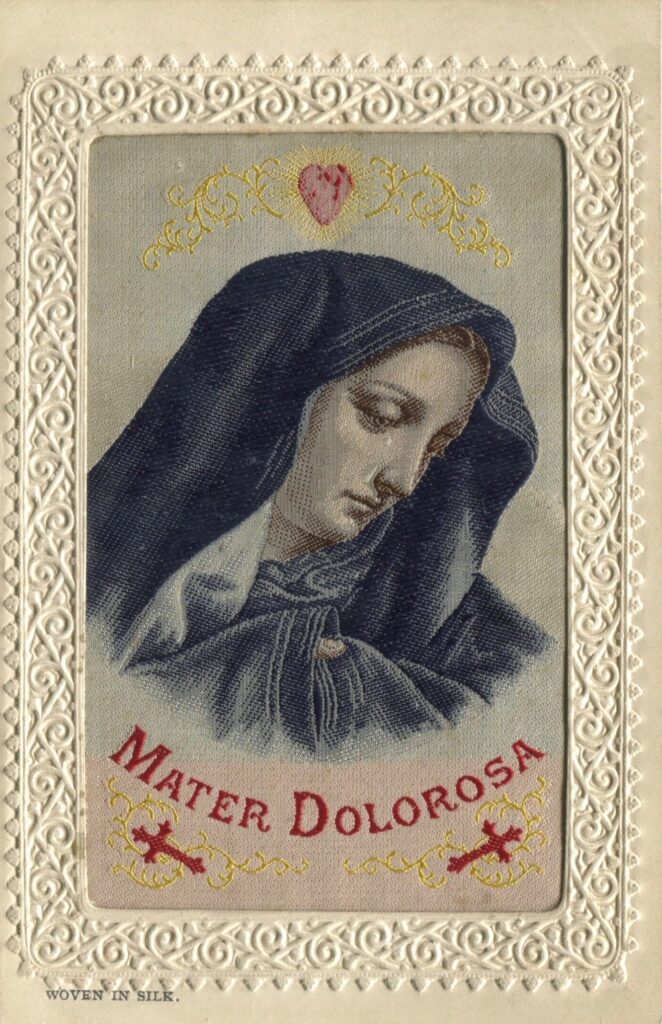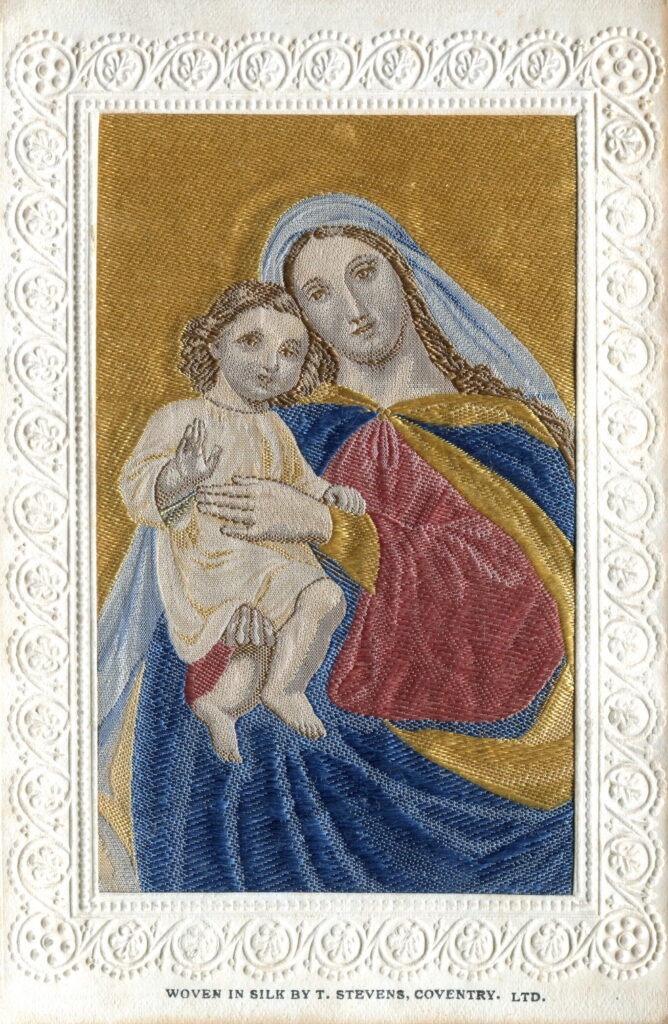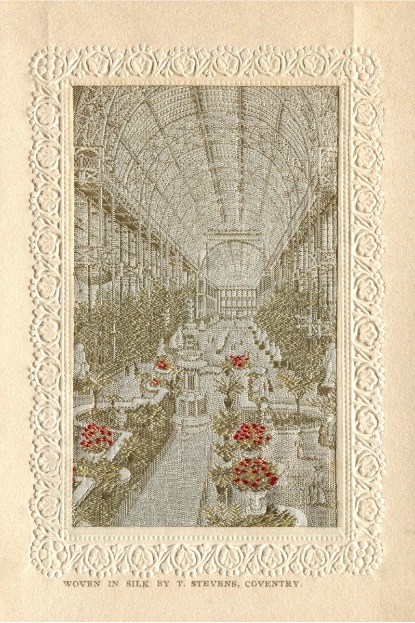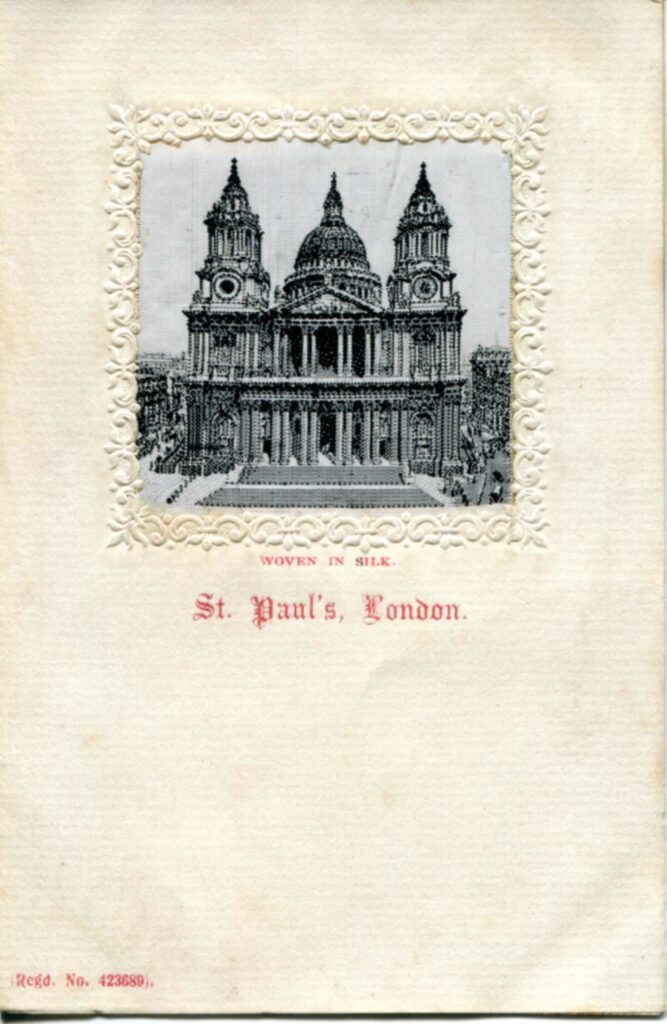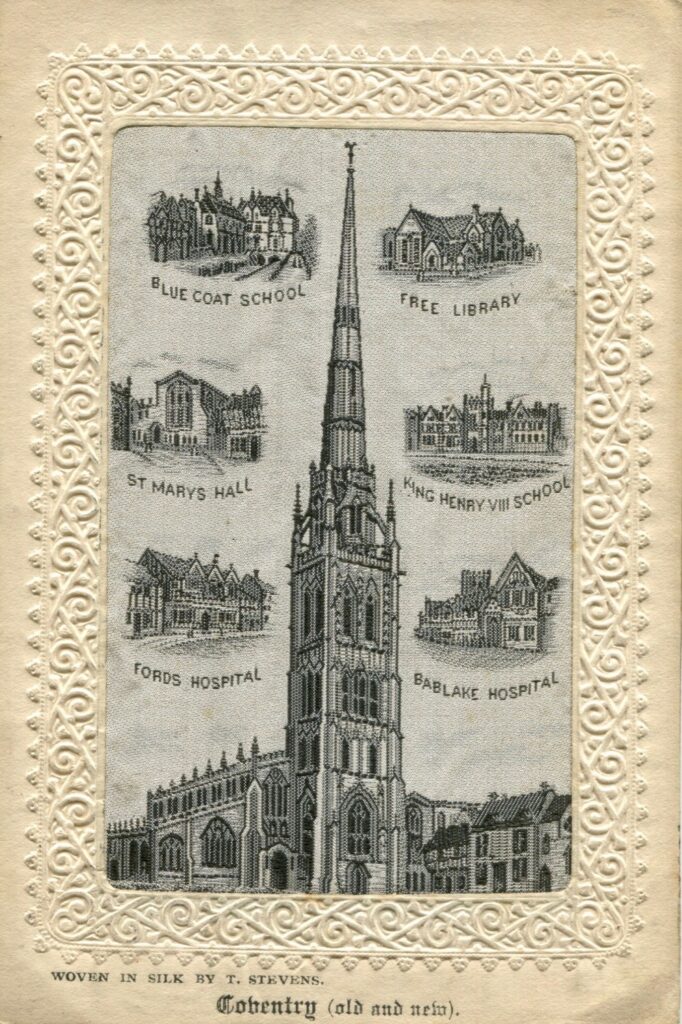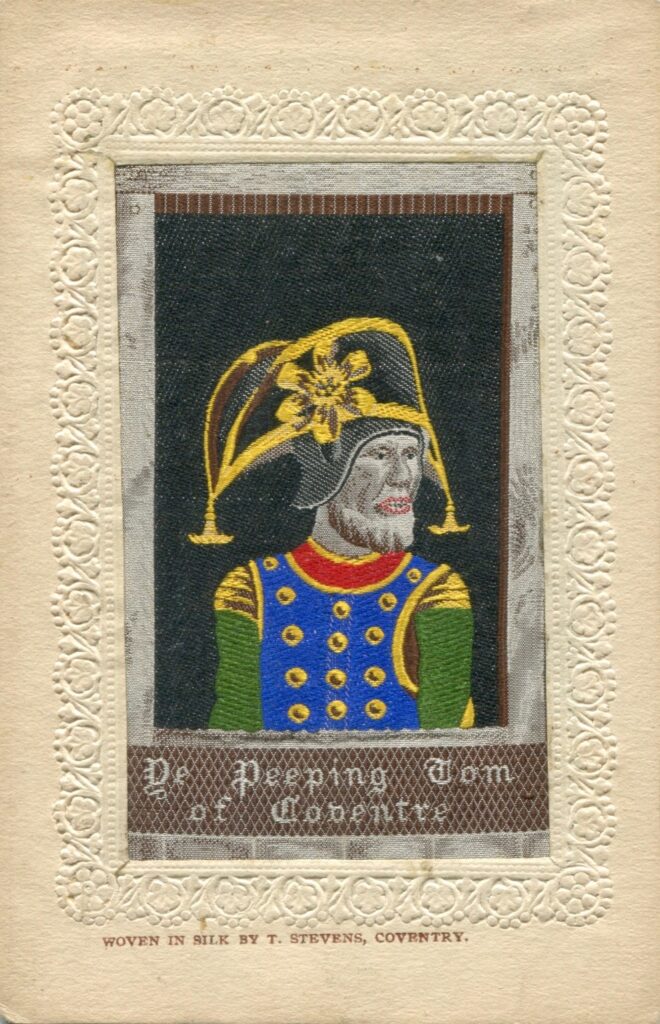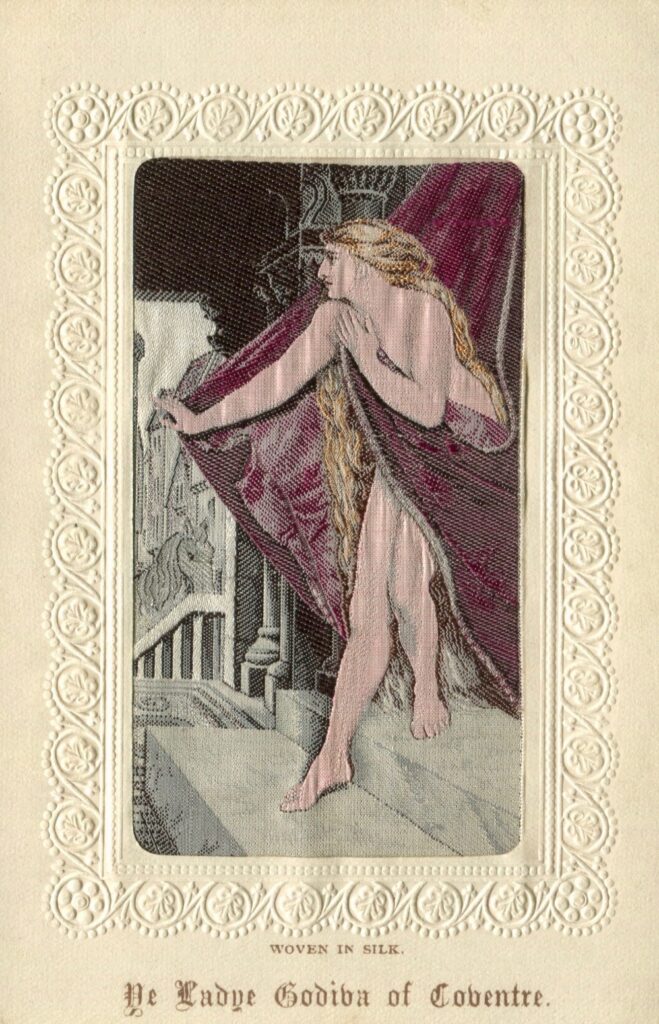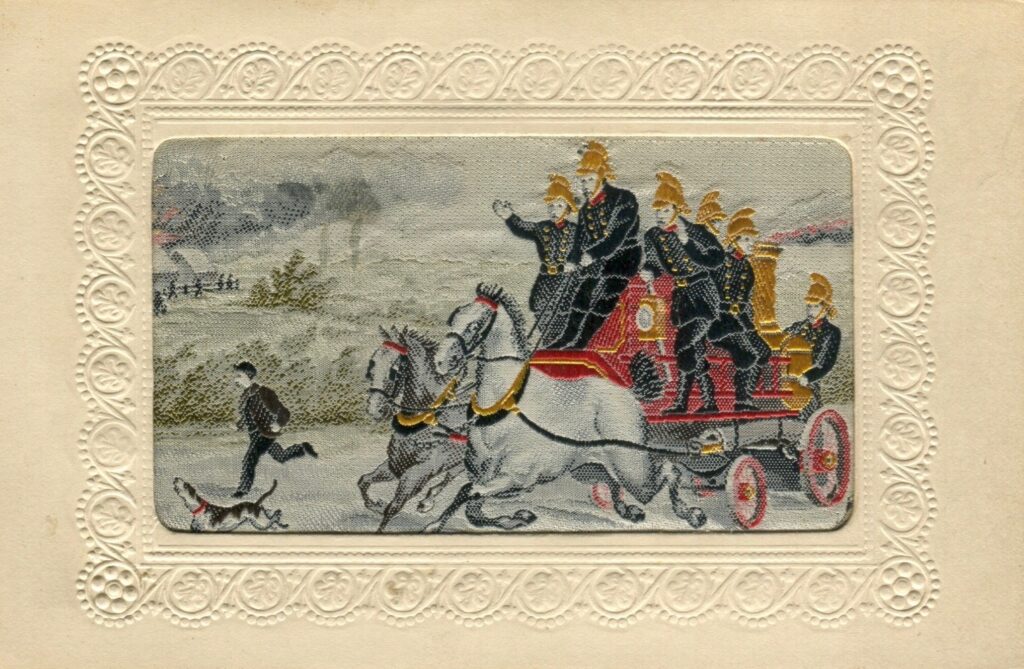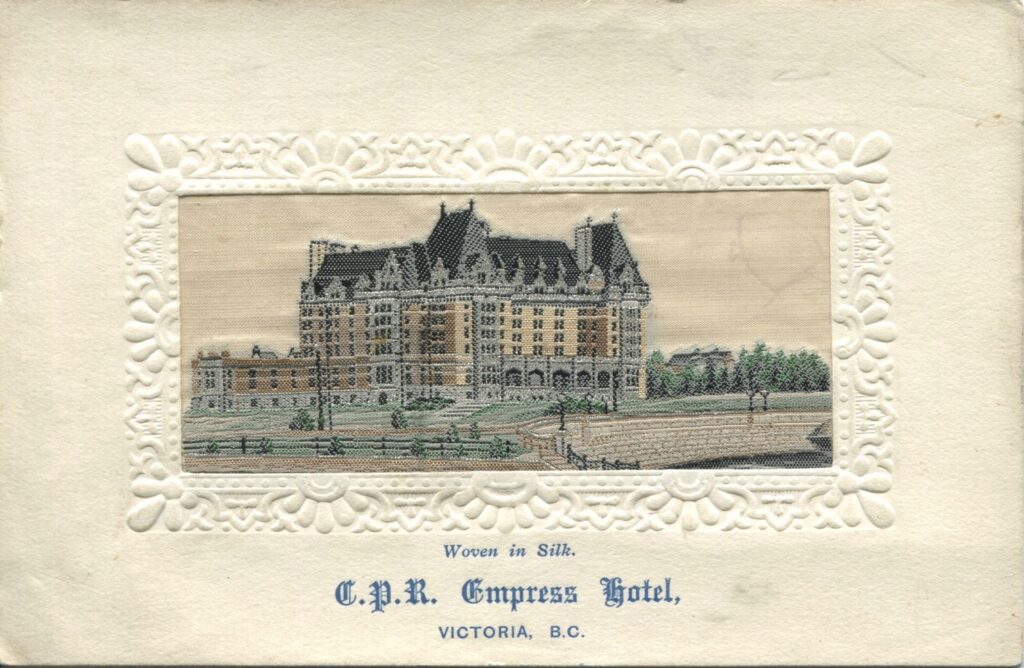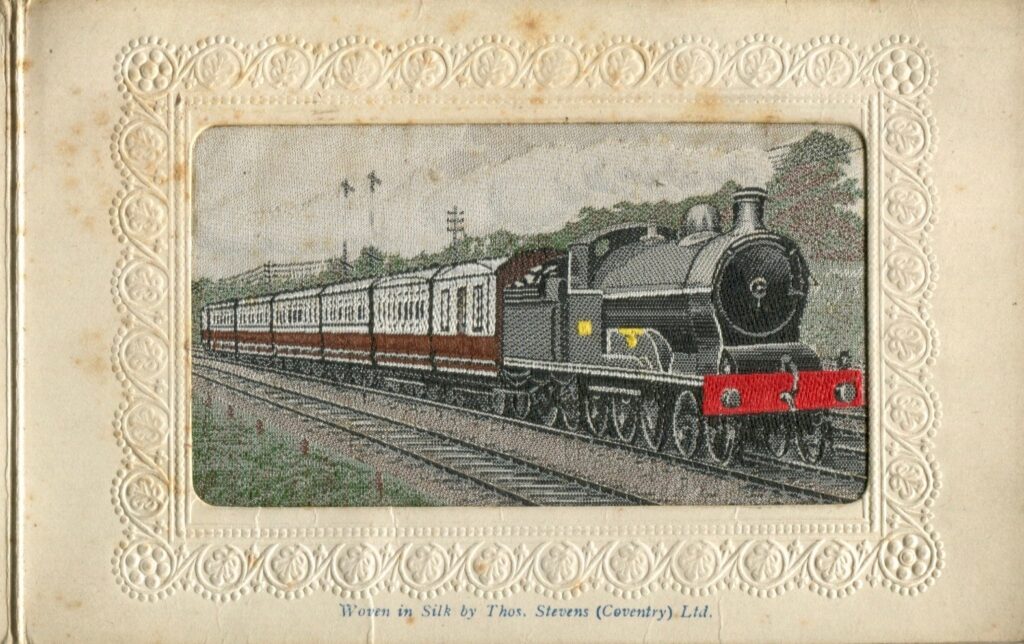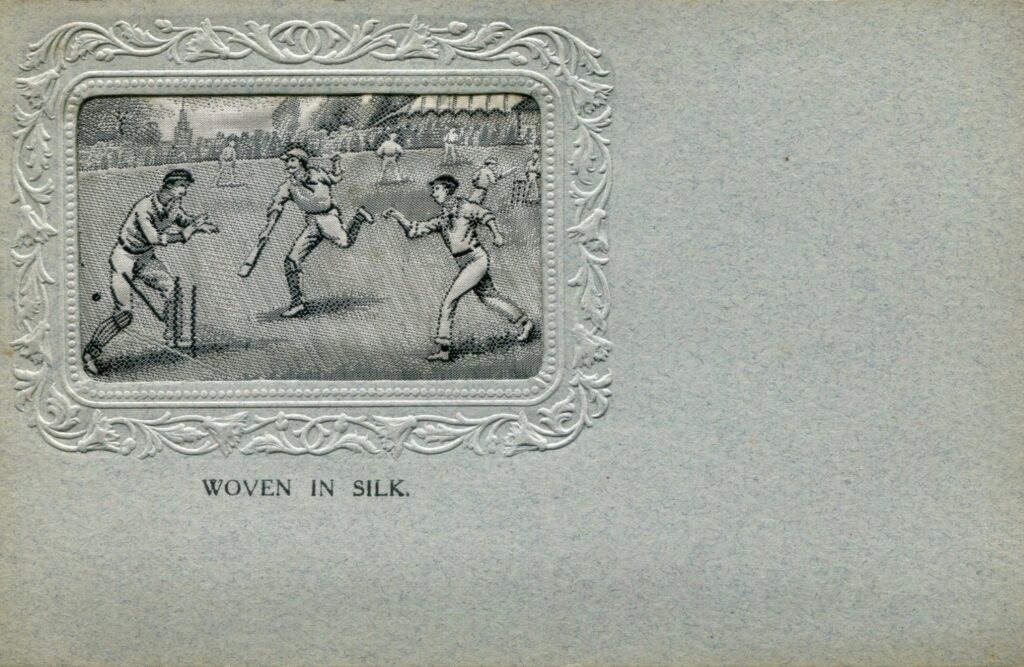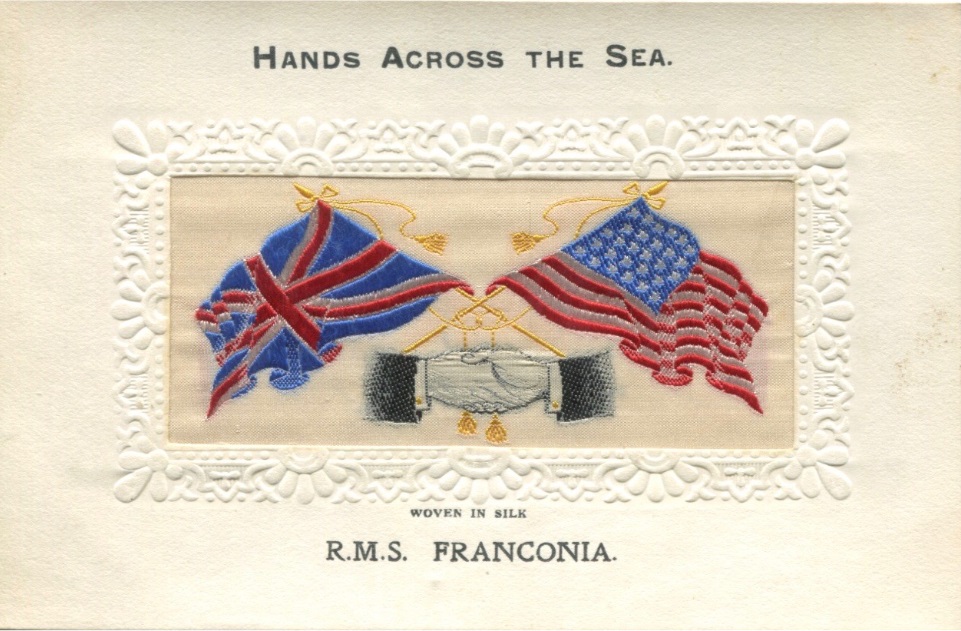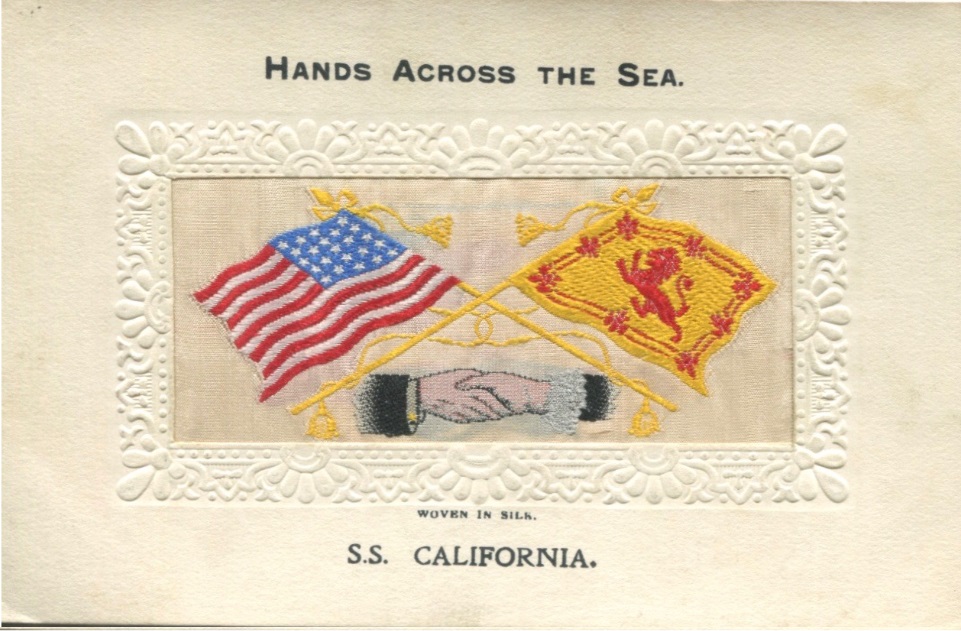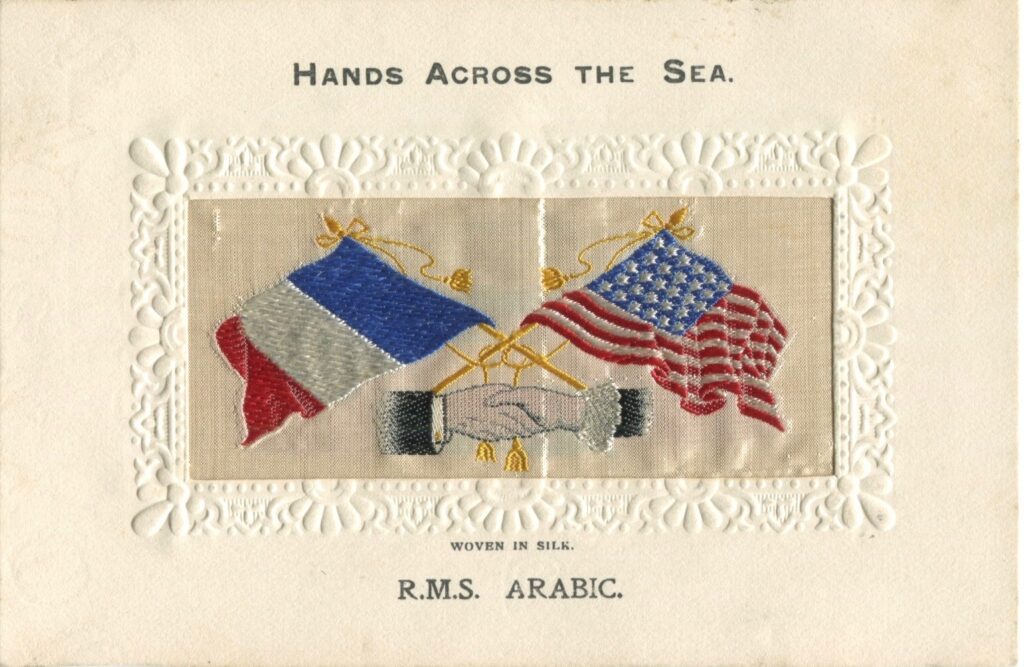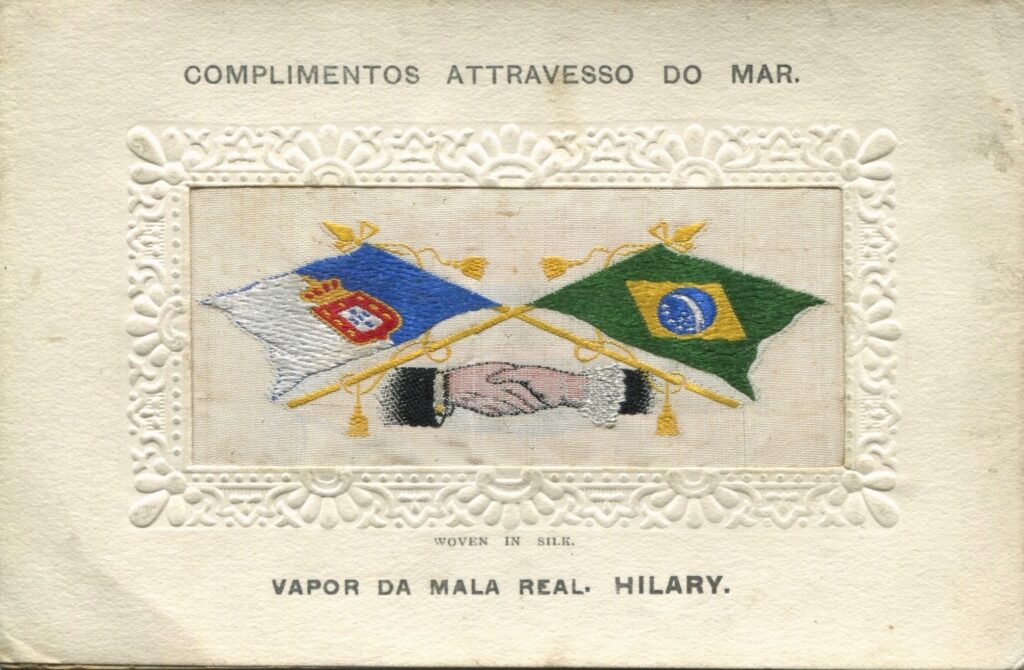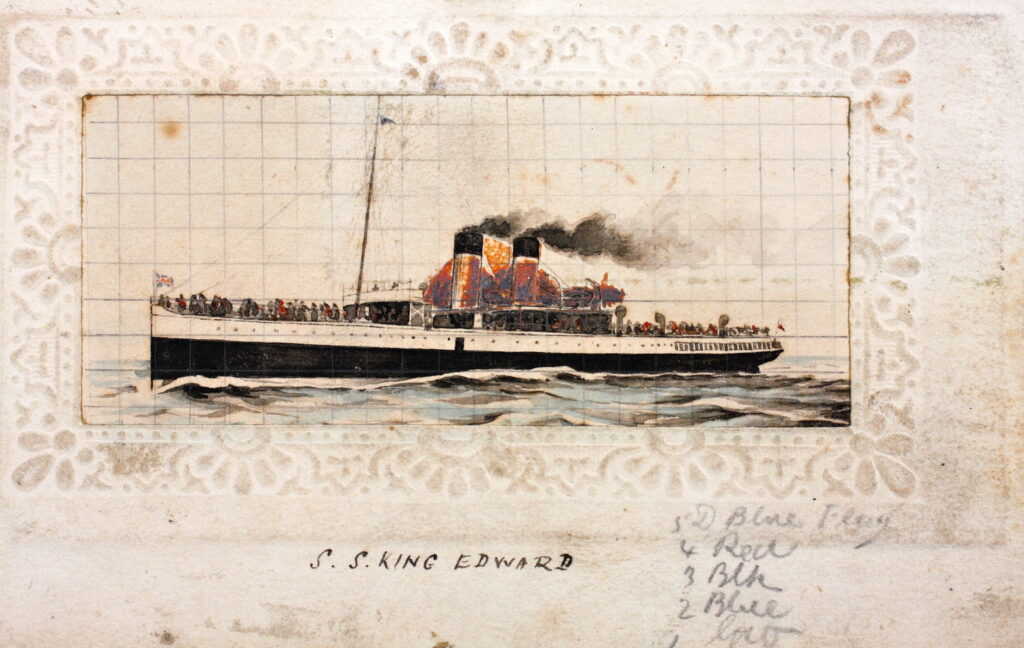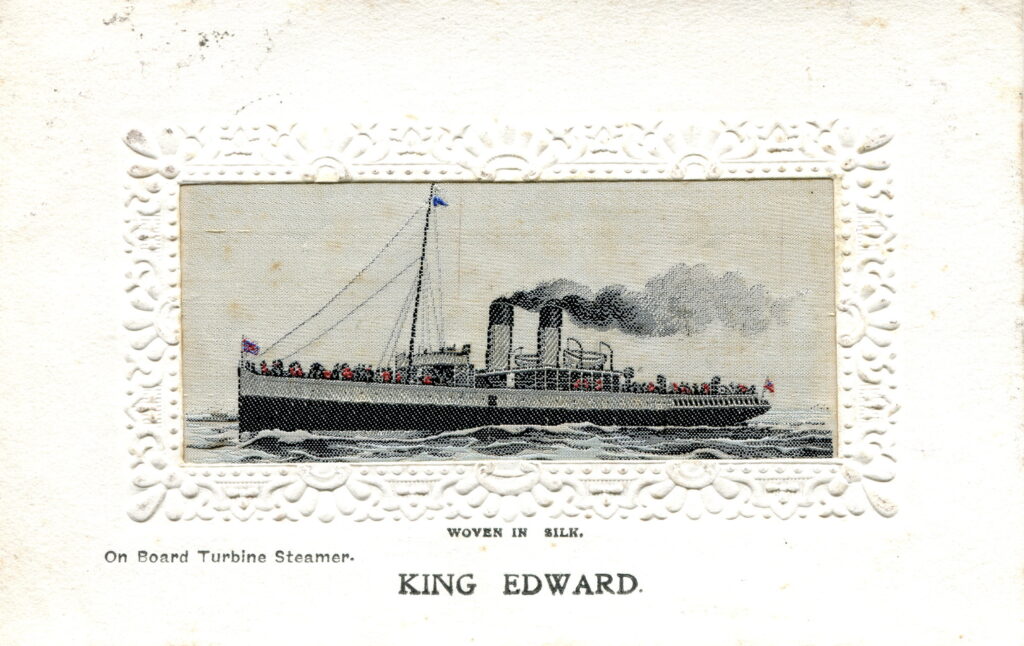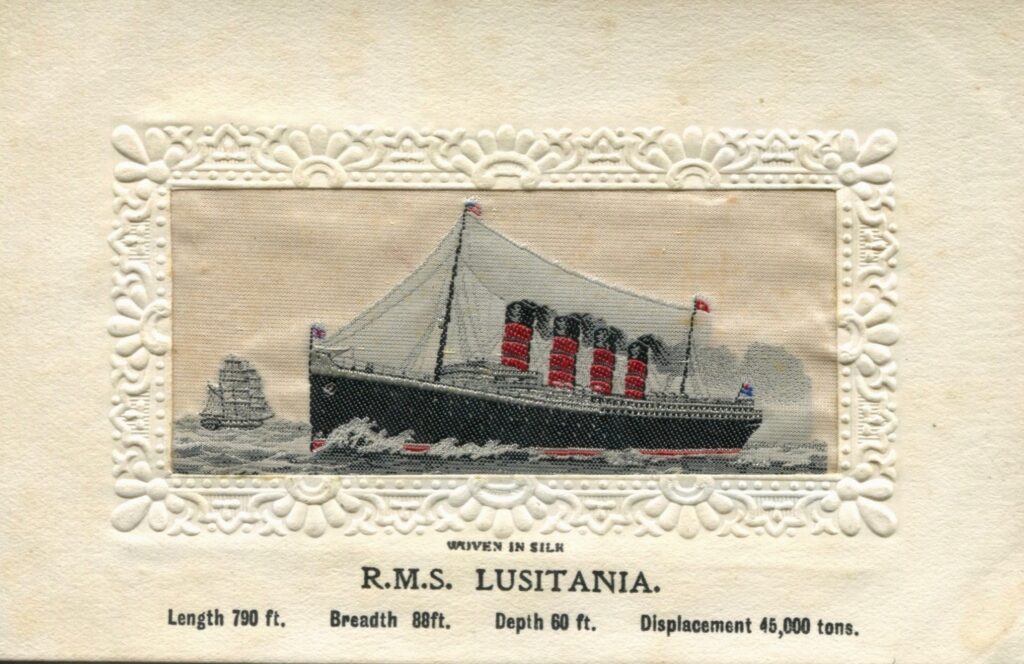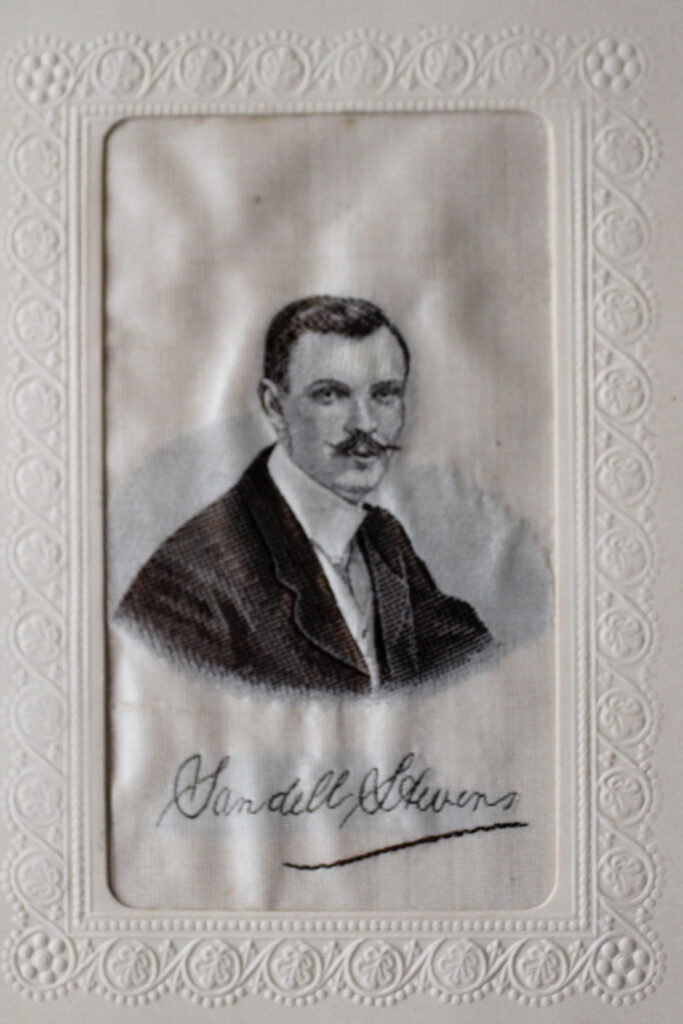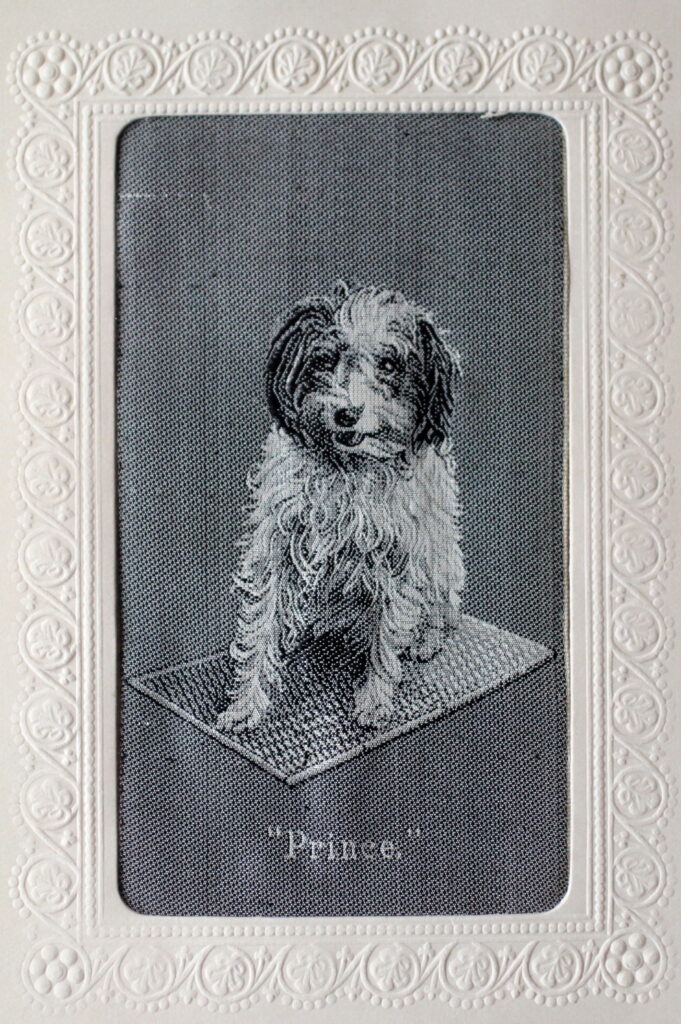 Notes: SS King Edward ship original watercolour for the postcard design (above left)/ a German published card from part of a Stevens bookmark (below right) and Sandall Stevens and his dog Prince (left) made only for family members.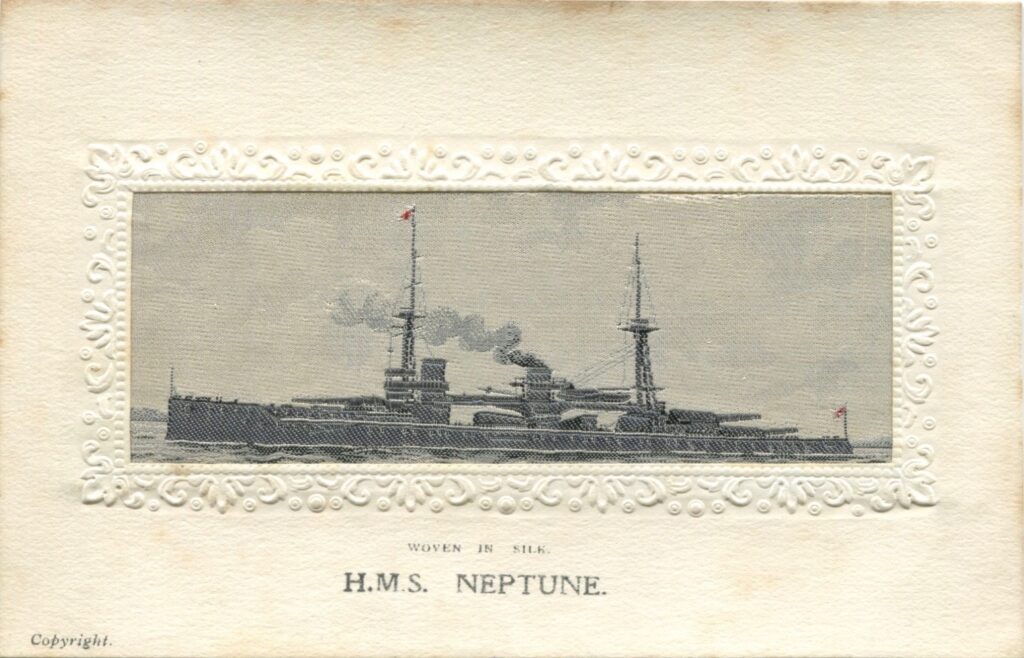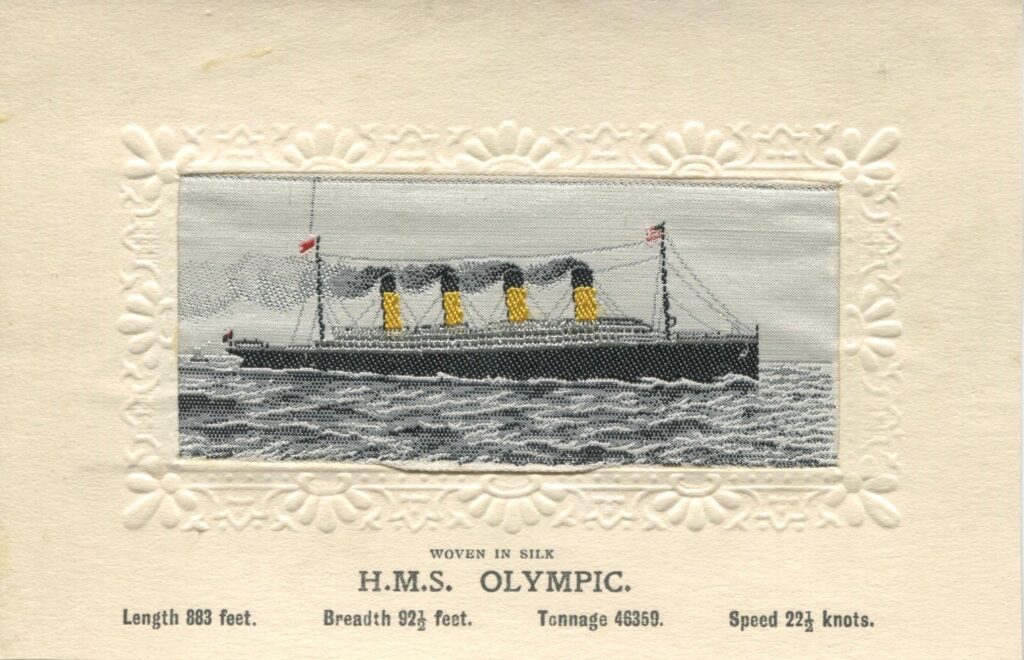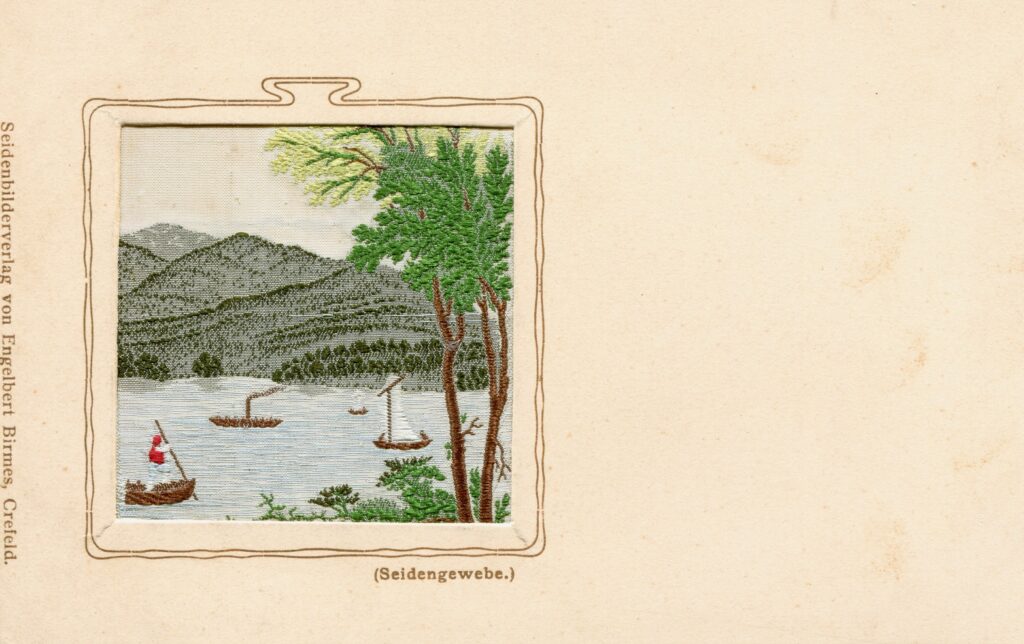 Alpha Stevens postcards – a brief note
Of the 58 recorded Alpha Silk Woven postcards, 38 of the designs were made by the Stevens company. Most of the cards are from Stevens bookmark designs while others are copies of the Stevens postcard and printed with a title and, most often a couple or two lines of verse. The cards were made sometime between 1914 and 1928. The designs are floral, flags and some ships. Here are some examples: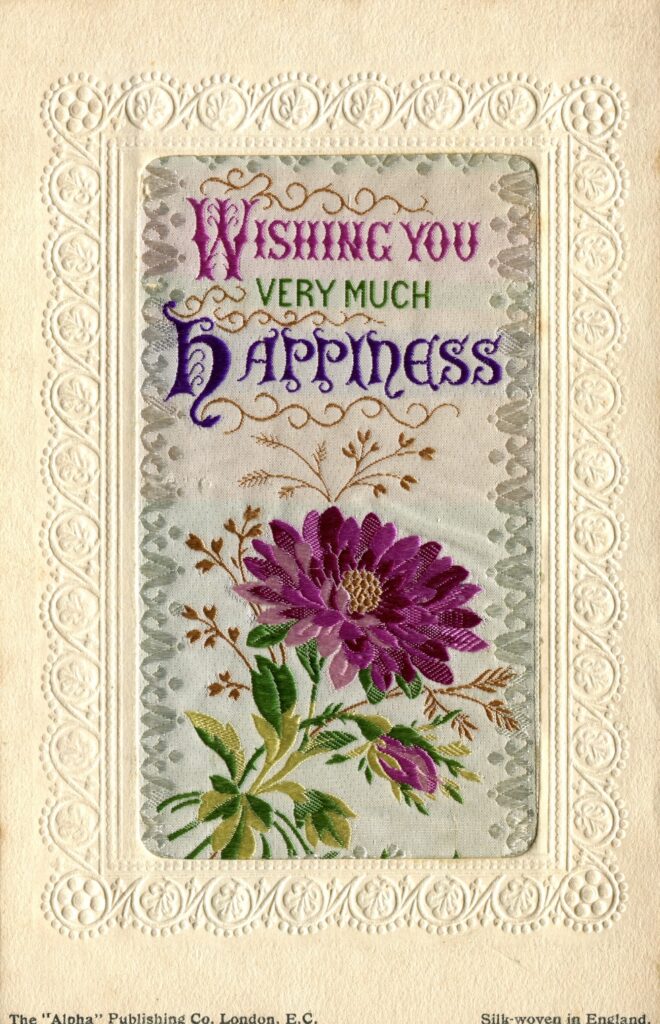 Alpha Card from Stevens Bookmark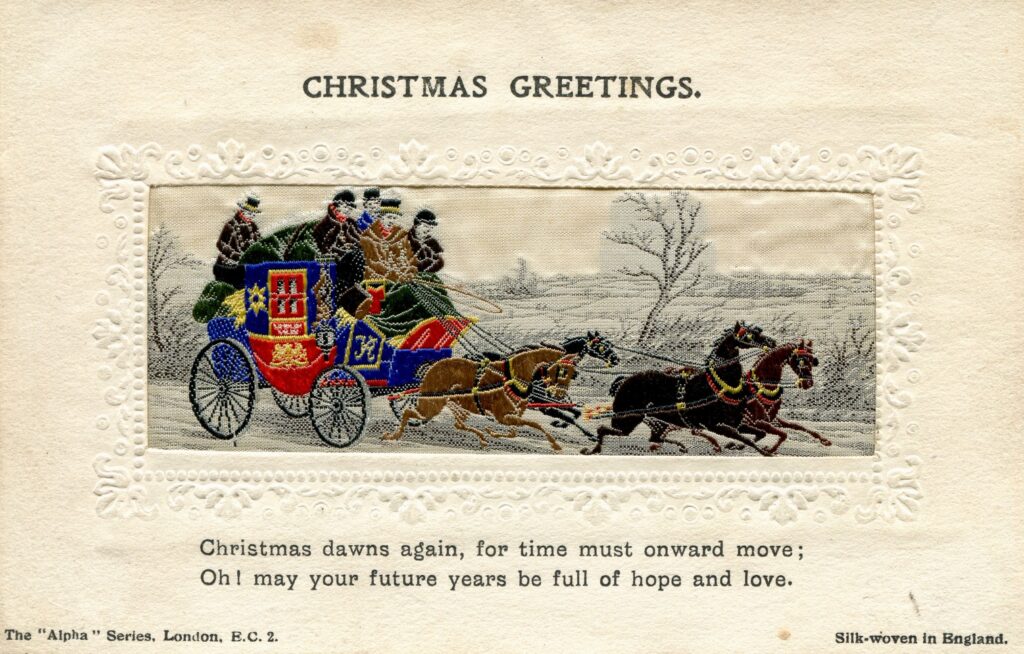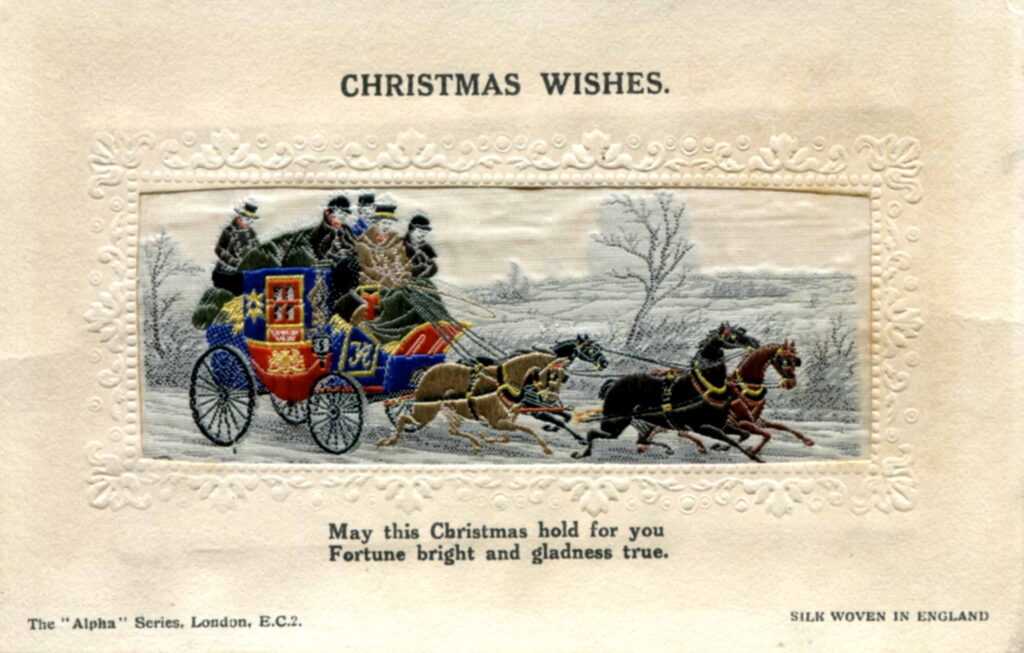 Same design – different words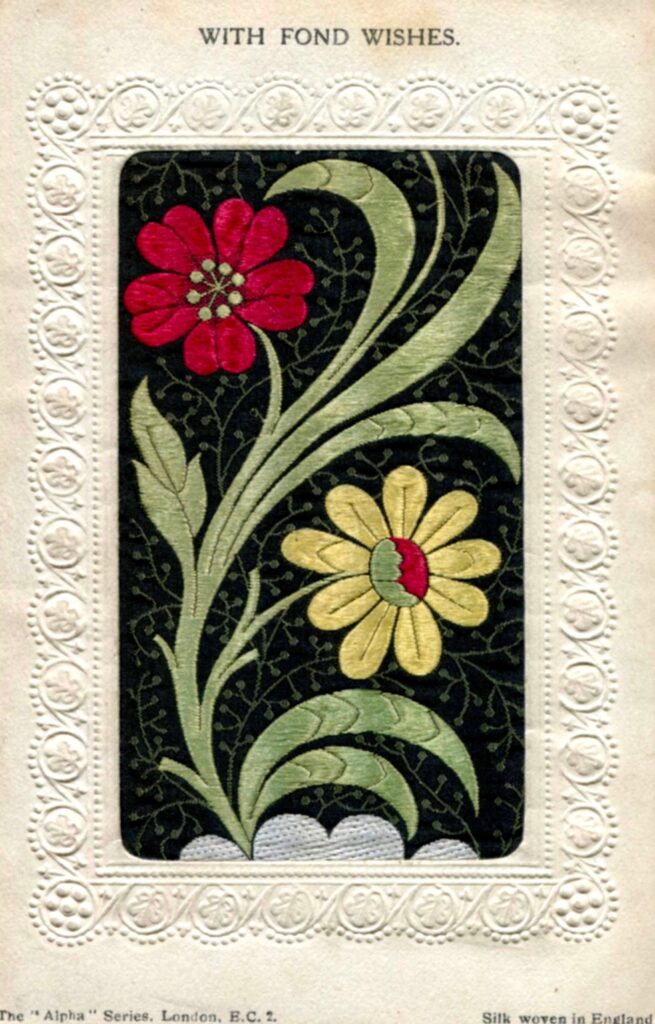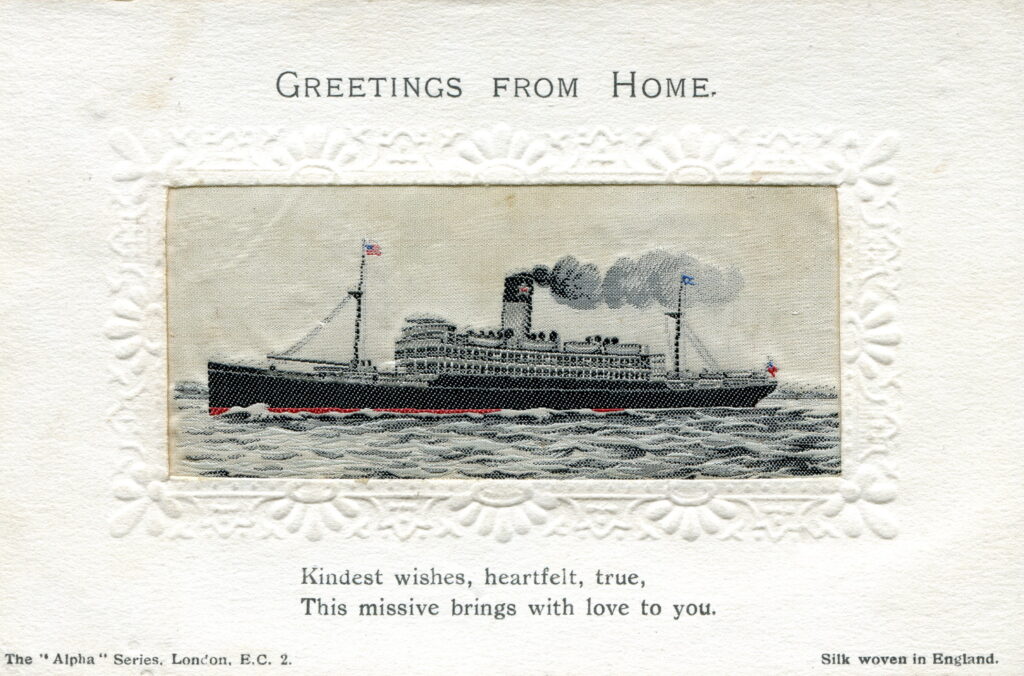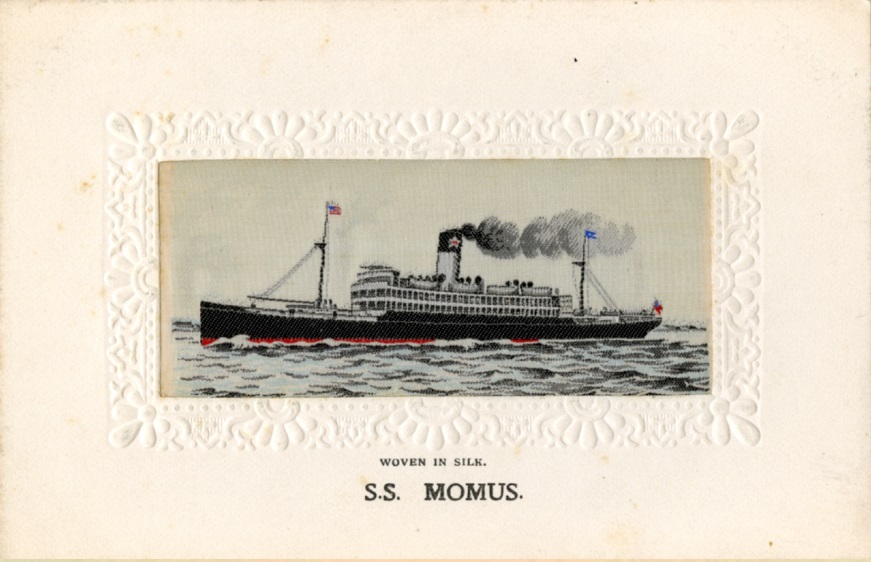 Alpha Card above left Stevens design above right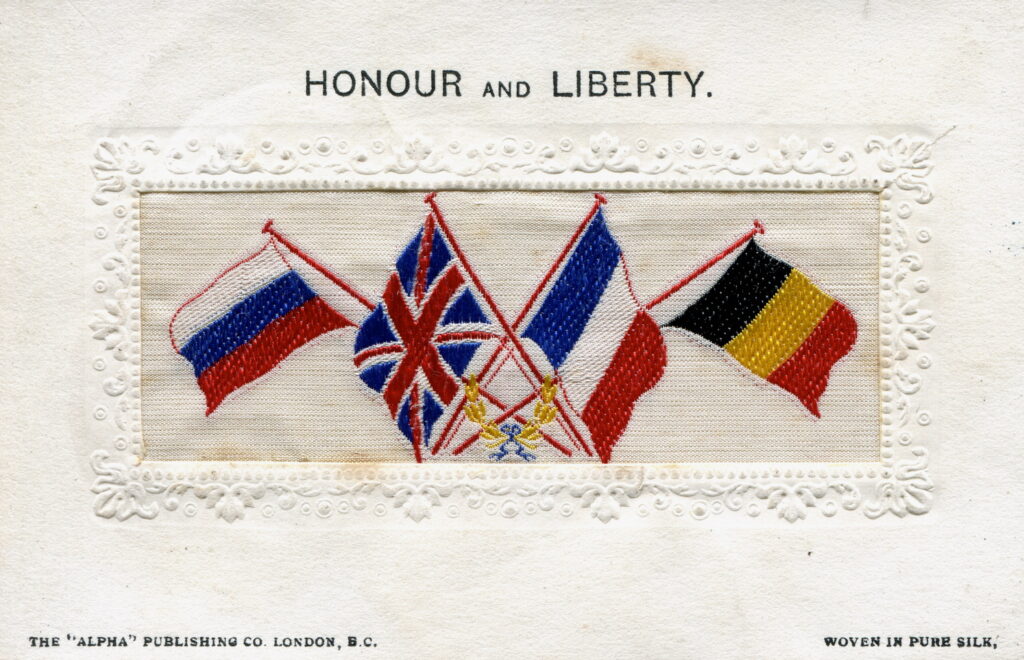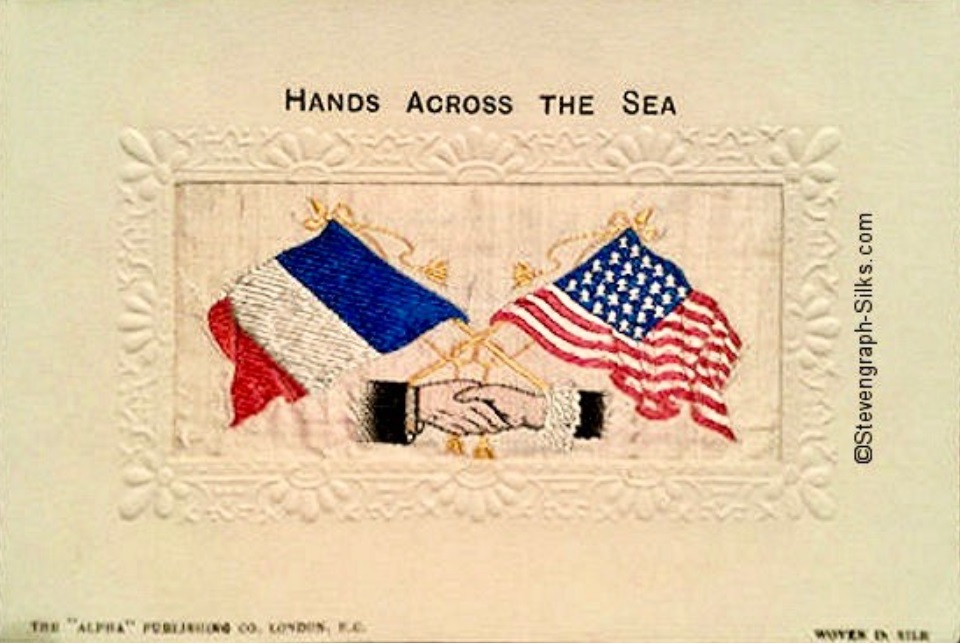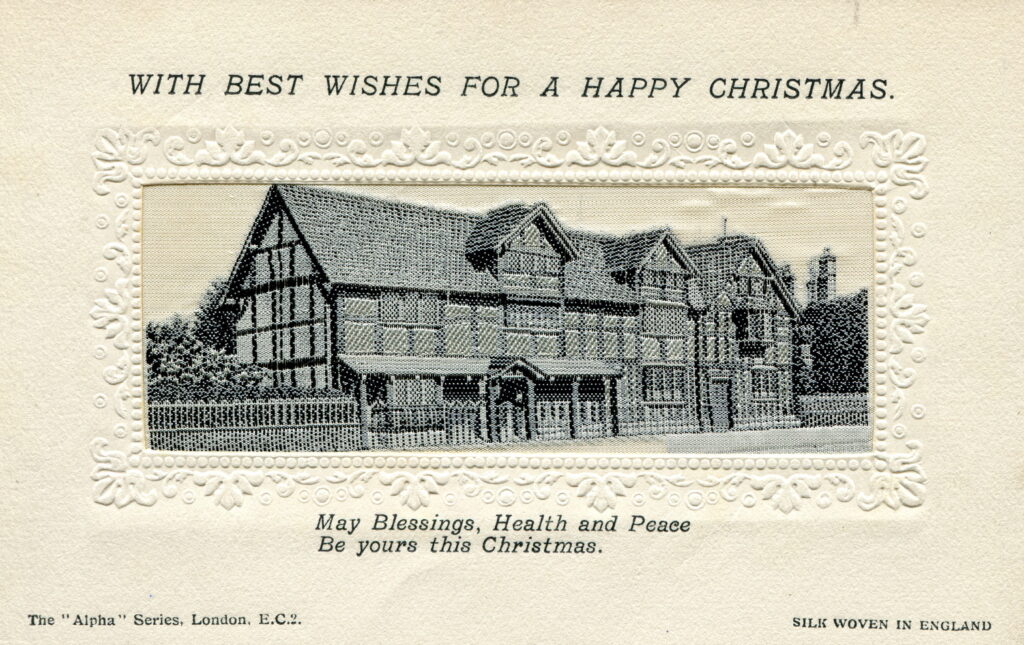 All the silk woven designs above are identical to the Stevens cards.